One vital component of the planning involved in divesting any commercial real estate asset should account for the ability to prospectively defer Federal and State capital gains taxes and depreciation recapture income tax liabilities associated with said divestiture through the election and completion of a 1031 Exchange. Over a myriad of 1031 transactions resulting in hundreds of millions of dollars worth of successful exchanges, Cambridge Capital Advisors has demonstrated tremendous expertise in advising and assisting its clients with the complexities associated with this process.
At Cambridge Capital Advisors, we understand the highly critical nature of the chronology of the transaction and its patent and latent pitfalls and exposures. In addition, we possess the ability to identify and source assets that not only are compatible with our client's investment objectives but also satisfy the equity and debt components of the exchange. In doing so, we enhance our client's ability to preserve their capital resources, increase their purchasing power and maximize the tax advantages afforded to them under section 1031 of the United States Internal Revenue Code.
Please feel free to click on the link in the event you would like more specific information regarding 1031 Exchanges, the workings of a 1031 Exchange and how Cambridge Capital Advisors might assist you.
Featured Property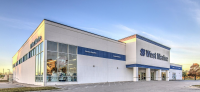 West Marine
1401 Marina Bay Drive
Kemah, TX
$6,935,000
Cap Rate: 6.50%
Active
More Info
Upcoming Events
CCA In The News
CAP Rate Trends